Who is this David R. Currie
sliming David Barton
in the San Angelo [TX]
Standard-Times
?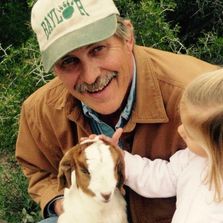 I wear quite a few hats in San Angelo, and I love this community. I am writing this article as the retired executive director of Texas Baptists Committed and a longtime board member of The Interfaith Alliance in Washington, D.C.
David Barton is of course a GOP activist, heavily involved in questions of religion and government and usually in fierce opposition to the Democrats. [See
The Great Texas Textbook Massacre
.]
What Currie does not mention anywhere in his op-ed is the hat he wears as
the current chair of the Tom Green County Democratic Party
. Currie's bio does disclose he holds a PhD in "Christian Ethics."
I do not question Currie's Christianity. But I do question his ethics. This lack of disclosure is inexcusable.
I'm also disgusted at Currie's attack in its misrepresentations of Barton's actual positions, as well as using the newspaper to urge fellow Christians to shun Barton. But let's just leave it here at Currie's ethics. This is political, and to pretend it's solely a Christian question is dishonest. And even if it were, on a Biblical level, completely inappropriate to take to the newspapers (see
1 Corinthians 6:1
).