We hear the Founders were "deists," whatever that means. However, "Judeo-Christian" although it's a 20th century neologism, is a more accurate description. The civic deity of America's "civil religion" has always been the God of the Bible, albeit Jehovah, not Jesus Christ [about whom they fought endlessly].
"May the same wonder-working Deity, who long since delivered the Hebrews from their Egyptian oppressors, and planted them in the promised land, whose providential agency has lately been conspicuous in establishing these United States as an independent nation, still continue to water them with the dews of Heaven, and to make the inhabitants of every denomination participate in the temporal and spiritual blessings of that people whose God is Jehovah."---GWash, Letter to the Savannah Jews, 1790
You'll even find the reputed infidels Jefferson and Franklin quite comfortable with the image of Jehovah as the Pillar of Fire leading the Israelites in the desert in their proposed design for the obverse of The Great Seal.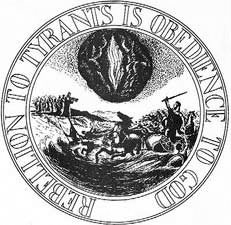 And even the [in]famous deist Ethan Allen reports in his autohagiography that he demanded the British surrender Ft. Ticonderoga "In the name of the Great Jehovah and the Continental Congress!"*
[The doctrinal weeds get tall pretty quickly on the Christ angle. Best to leave it be, as they did back then. Even though "Christ" makes an appearance in the Battle Hymn of the Republic, it's along with some Grapes of Wrath and a Terrible Swift Sword--not the cuddly Barney the Christosaur of our current era, but more like Jehovah, who after all, according to Trinitarianism is part of the same One God anyway.]
___________________________
*Although earwitnesses attested Allen actually said, "Come out of there, you sons of British whores, or I'll smoke you out!" Still, it tells us a lot about his intended audience and the religious landscape of the time.