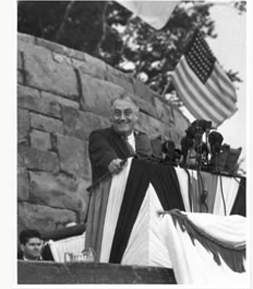 "There is, moreover, another enemy at home. That enemy is the mean and petty spirit that mocks at ideals, sneers at sacrifice and pretends the American people can live by bread alone. If the spirit of God is not in us, and if we will not prepare to give all that we are to preserve Christian civilization in our own land, we shall go to destruction."


—Franklin D. Roosevelt,

at the Dedication Ceremony of Great Smoky Mountains National Park,

September 2, 1940


There was a time when this sort of thing wasn't

considered scandalous

.